Whole Body EMS training & fitness in the comfort of your home, in the gym or anywhere you're on the go!
With the eaglefit wireless EMS technology you can easily turn any place into your fitness zone.
The intensity of eaglefit's muscle stimulation is as powerful as any stationary device in EMS studios.
Your advantage:
The advanced technology of our EMS dry electrode suit allows you to move with ease as you stimulate over 90% of your muscles in only 20 minutes twice a week.
Tone your body, build muscle mass and burn fat without added stress on joints, ligaments and tendons.
Reduce aging, optimizing overall wellbeing and longevity by staying physically fit.
…and, after a stressful day, the eaglefit relaxation program is sure to rejuvenate your body and relax your mind.
For every level of Performance
Flexible time-saving workouts where and when you want
Highly Effective Strength Training that's Joint-gentle
Eaglefit Home EMS Komplettsystem
Trainieren Sie mit diesem kabellosen, mobilem EMS Trockenanzug von eaglefit Ihren Körper gelenkschonend in nur 20 Minuten / Woche – und das wann und wo SIE wollen!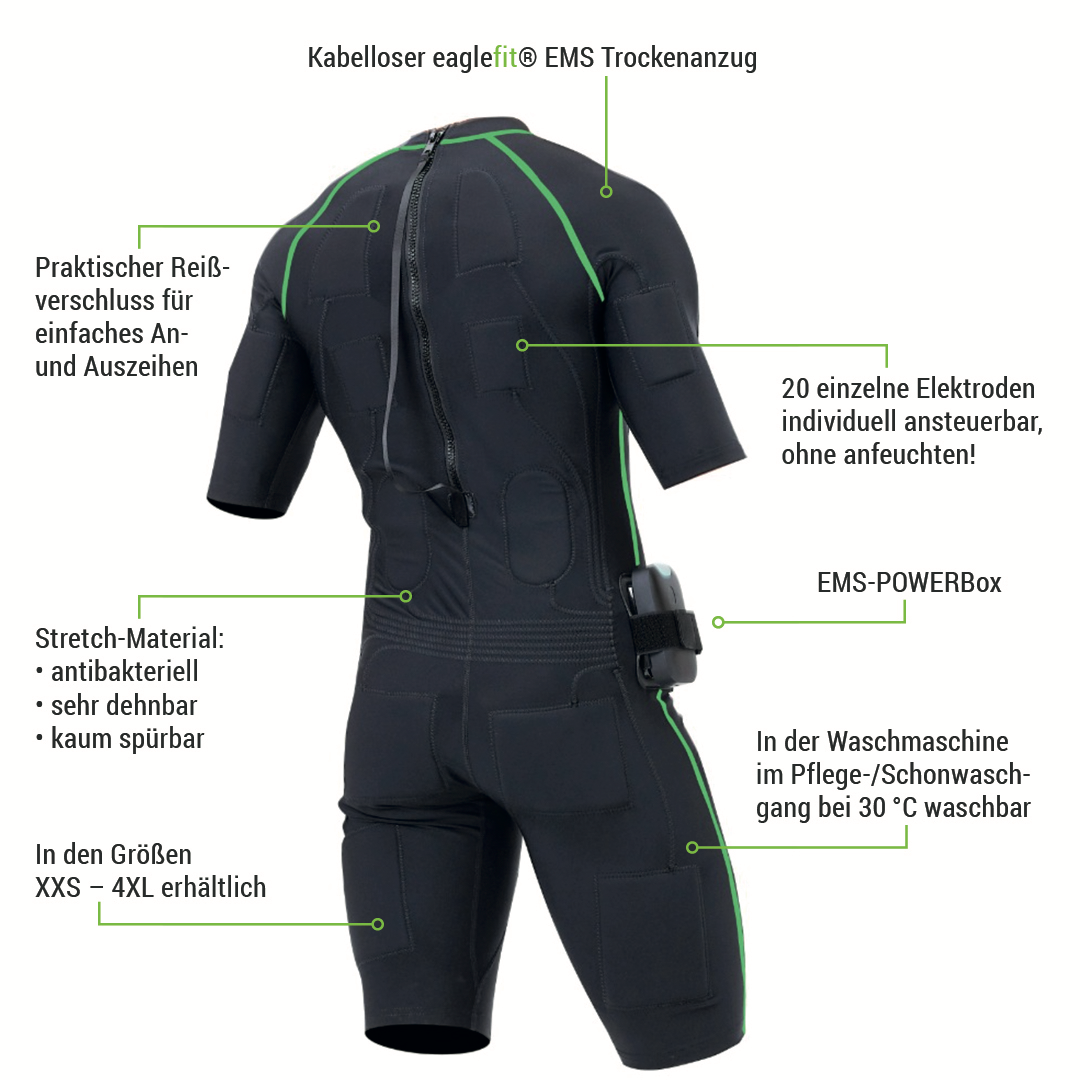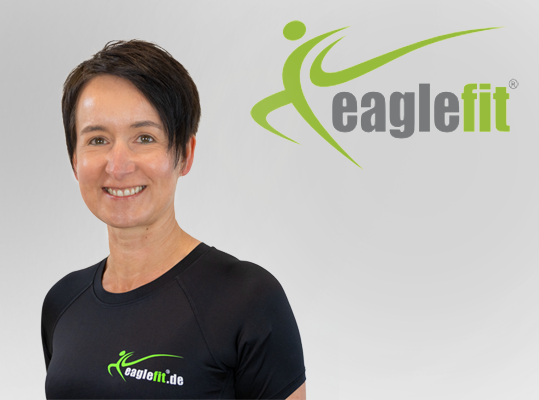 eaglefit® is your professional partner
for EMS Systems from Germany
eaglefit® has been producing fitness and exercise enhancing products, powered by German technology since 2011.
Products are developed for personal use and in collaboration with personal trainers, physiotherapists, and rebab professionals to optimize fitness and well-being at any age or level.
Eaglefit provides products and proven solutions that support you in achieving your personal fitness and wellness goals with motivation and results.
100% freedom of movement through wireless EMS systems

Dry Silicon electrodes provide maximum comfort and flexibility

Antibacterial EMS-Suits and Pants are Machine washable

Easy to control through app for Android, iOS and Apple Watch
Whether your goal is muscle building, body toning, endurance, fitness, weight loss, rehabilitation after injury or surgery, relaxation or fat reduction, you will find the appropriate setting in the (free) app. You can perform all movements and workouts indoors as well as outdoors.
Freedom of movement thanks to smart eaglefit POWERBox
The smart eaglefit POWERBox, which you attach to the side of your eaglefit EMS suit, controls the sewn-in silicone electrodes that target your muscles via your nerves. On your cell phone, Apple Watch or tablet, you choose between the predefined training programs via the eaglefit app
Bewegungsfreiheit dank smarter eaglefit-POWERBox
Über die smarte eaglefit-POWERBox, die Sie seitlich an Ihrem eaglefit-EMS-Anzug anbringen, werden die eingenähten Silikon-Elektroden gesteuert, welche Ihre Muskeln über Ihre Nerven gezielt ansprechen. An Ihrem Handy, Ihrer Apple Watch oder Ihrem Tablet wählen Sie über die eaglefit-App zwischen den vordefinierten Trainingsprogrammen